For activating the Premium version of Oxyplug HowTo plugin, you need to copy the license key which is available on your account control panel after purchasing the plugin. Then follow the steps below:
1. Head over to the License section in the Oxyplug HowTo plugin.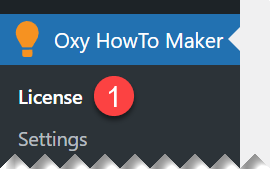 2. Paste the license key in the License field.
3. Press the Activate button to make the premium version activated.

4. Check the plugin is successfully activated. On the top right, you can see the expiration date.

For removing the premium license, you need to:
5. Press the Remove License button.
6. A warning popup appears to make sure about removing the license. Press OK to remove the license.